Solutions showcase
many companies are confronted by similar People challenges. The scenarios presented below demonstrate our approach.
It usually starts with a talk with a C-Level Executive. They have such a broad view- they can feel the impact of the organizational challenges they face. They also realize that they need help in identifying the specific issues and creating a solution. MMC is then engaged to do some detective work. Using our experience in assessment, we are able to create survey techniques which help us gather data. We then assemble the data in a meaningful way and report our findings. Using the the data, we work together with you to develop an approach that will allow you to overcome the challenges you face. Finally, we partner with you as we execute on the approach.
The Situation:
The various departments in your organization seem to clash with each other. There are many battles that do not get resolved, any progress seems to get sidetracked. You have met with the department heads, but they seem to act as though everything is fine. There is little disagreement in the room, but as CEO you feel that there is more to the story. Our consultants meet not only with your department heads, but also survey the people that report to them. Through our "organizational audit", we discover there is no coherent guidance for decision-making and therefore department heads are making decisions based on personal biases, not a coherent strategy. In addition, the head of finance is constantly yelling at his staff, so they are demoralized and the department turnover rate is twice as high as the rest of the company.
The Solution:
The leadership team is taken through a facilitated exercise in order to design/develop a unifying strategy that identifies gaps between desired corporate goals and the current behaviors. From this meeting specific action steps are identified to move the organization forward. In this case, not only were cross department meetings indicated, but the finance head was identified as in need of individual coaching in order for his department to improve its functioning.
Our consultants can develop and design the interventions, faciltitate the meetings using their expertise in understanding human behavior to maximize the effectiveness, and provide the individual or departmental coaching needed to create the highest levels of performance.
Recent solutions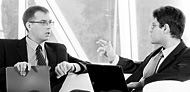 Changing Direction? coaching Through the change
We were able to help a major organization with a business model change. We provided individuals and teams with the support that they needed as the organizational culture was moved from an individual performer to team basis. Whenever change is necessary helping individuals adapt to those changes will lead to lower levels of disruption and higher levels of change acceptance.
Read more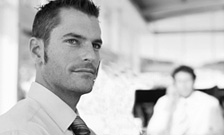 Adding leadership to your organization?
We partnered with the organization as they developed a profile of the perfect candidate for the leadership position. Once the necessary capabilities were determined, qualitative and quantitative measures were utilized to determine "best-fit" candidates for the position. By matching intellectual capabilities and personality characteristics to organizational culture and role requirements, we identified the right person for the right position. This lead to not only success in the position that they were hired for, but later a promotion to a higher level of leadership and responsibility..
Read more
Company Capabilities
Organizational audits
Using both interview and survey data we are able to develop a x-ray of your organizational strengths and challenges. We debrief you on our findings and help develop solutions to any of the challenges to optimal performance.
Strategy Development
We can help you provide the link between directional aspirations and execution within your organization. Using the audit, we design an effective strategy retreat that will create a platform for your organization to grow.
Leadership Development
We help you identify the skills and abilities that are needed by your management team. We can then measure your leaders against those capabilities, find the gaps and develop interventions that will raise your organization's effectiveness.
Talent Selection
We use advanced personality assessments, comprehensive biographical interviewing and our understanding of your organizational needs to identify the best candidate for the position you have available. You are making a big investment in your people, do not leave your hiring decisions to intuition. You need input from a Ph.D. level consultant who has studied personality for an entire career and understands how to assess people on the dimensions you need to maintain a successful organization.
Talent Management
Keeping your people learning, growing and developing is a key factor to any successful organization. We help you create strategic development systems which help your people improve their skills, move up to positions of greater responsibiltity and ultimately improve your benchstrength as you look for leaders within your organization. Succession Planning should be a long term project not a reactive event to a sudden loss. We help you develop your succession paln and identify the key individuals in your organization who can rise to the top.
Team Development
Organizations are run by people. Getting people to interact in productive, effective and healthy ways can be a challenge. Our consultants are experts in helping people learn how to work with each other. We provide effective methods in the areas of Conflict Resolution, Team Building and, as part of the new age, developing effective organizational networks.
Contact Us
Ideal solutions
Come from a partnership between our skilled consultants and your organization. We collaborate with your leadership to develop what works for your company.